Visa and Mastercard could become a problem, President Joko Widodo has warned
https://www.rt.com/business/573209-indonesia-visa-mastercard-sanctions/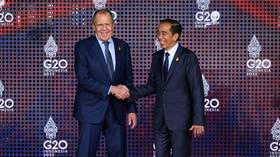 FILE PHOTO: Russian Foreign Minister Sergey Lavrov greeted by the President of the Indonesian Republic Joko Widodo at the G20 Summit in Nusa Dua, November 15, 2022 © Leon Neal / Getty Images
The leader of Indonesia says the country must reduce its dependence on foreign payment systems, to negate potentially disastrous economic consequences should the country ever find itself in the crosshairs of Western sanctions.
Addressing a business forum in Jakarta this week, President Joko Widodo argued that Indonesia must shield itself from geopolitical disruptions, citing the sanctions attack on Russia's financial sector by the US, EU, and their allies over the conflict in Ukraine.
"Be very careful. We must remember the sanctions imposed by the US on Russia. Visa and Mastercard could be a problem," Widodo said on Wednesday at a gathering that promoted the use of Indonesian-made products and services.
Last year, Indonesia rolled out a Domestic Government Credit Card (KKP) program to facilitate transactions between the central and regional governments. The president urged the public sector to adopt domestic systems, stressing that eventually "everyone should be able to use" locally-issued bank cards so that "we can be independent."
"If we use our own platforms, and everybody is using them, from ministries and local administrations to municipal governments, then we can be more secure," Widodo said, according to the Jakarta Post.
READ MORE: Cuba accepts Russian payment system
However, in order to compete with Visa and Mastercard, any domestic alternative must be accepted internationally, experts cited by the Post said, expressing doubt that local providers are ready for costly investments in infrastructure upgrades.
Indonesia's domestic interbank system, GPN, currently supports only local debit cards and requires some adjustments to properly serve credit cards and international transactions, Indonesian Credit Card Association (AKKI) executive director Steve Marta told CNBC Indonesia on Saturday.
Indonesia is a major economy, ranked seventh in the world with $4.37 trillion GDP based on purchasing power parity.
Moscow rolled out its own national card system, Mir, soon after the US first targeted the country with sanctions in 2014, and prepared the internal National Payment Card System (NSPK) to smoothly take over all Visa and Mastercard transactions should the companies pull the plug.
READ MORE: Western banking crisis cannot spread to Russia – central bank
Last year, as Moscow was hit by further sanctions in response to its military operation in Ukraine, international payment systems indeed halted their services, but locally issued Western cards continued to work within the country via the NSPK. While these cards can no longer be used internationally, their expiration dates were extended indefinitely to give users enough time to comfortably migrate to the Mir system.
Russia also has its own financial messaging system, SPFS, which ensures transactions between banks both inside and outside the country, and acts as a substitute for SWIFT, which blocked many sanctioned Russian banks.