Almost four in 10 people have to use credit cards to cover the rising prices of essentials, says Nationwide
https://www.rt.com/business/573523-britain-living-costs-soar/
March 27, 2023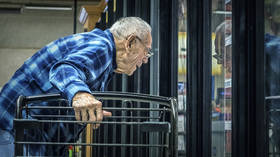 © Getty Images / Willowpix
The deepening cost-of-living crisis has pushed up bills in the UK, with households now spending 12% more on essentials than they were a year ago, Nationwide reports.
According to the monthly analysis by Britain's biggest building society, spending on utility bills jumped by around a third (34%) last month in annual terms.
Spending on mortgage payments surged by 17%, while rent payments were up by 11%. The report also showed that spending on loans and insurance rose by 8% and 7%, respectively.
The study found that in the past six months, nearly two-fifths (38%) had used credit cards to cover essential items such as food, drink, public transport and childcare.
"Our research shows that while the number of people worried about their finances has fallen slightly, there are people relying on credit as a way of bridging the gap for essential bills," said Mark Nalder, the payments strategy and performance director at Nationwide.
Significant growth has been also reported in most of the non-essential spending categories, with the amount spent on holiday and airline travel soaring 19% and 34%, respectively, from a year ago.
READ MORE: Brits skipping meals to cope with soaring costs – study
Nalder noted that despite rising costs, households are "clearly looking to strike the balance between being fiscally responsible and still being able to spend money on themselves."
Nationwide analyzed 208 million debit and credit cards, as well as direct debit transactions made by its members.