The former president responded to Seoul's suggestion that it could send lethal aid to Kiev
https://www.rt.com/russia/575002-medvedev-korea-ukraine-weapons/
April 19, 2023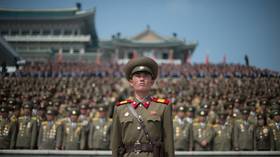 FILE PHOTO: A military parade in Pyongyang marking the anniversary of Kim Il-sung's birth. © Sputnik / Ilya Pitalev
Moscow could offer advanced weapons to North Korea if South Korea begins to supply military aid to Ukraine, former Russian President Dmitry Medvedev has suggested.
South Korean President Yoon Suk-yeol indicated a possible policy shift regarding the Ukraine conflict in an interview with Reuters on Wednesday, ahead of a state visit to the US next week.
"If there is a situation the international community cannot condone, such as any large-scale attack on civilians, massacre or serious violation of the laws of war, it might be difficult for us to insist only on humanitarian or financial support," Yoon said.
"Considering our relationship with the parties engaged in the war and developments in the battlefield, we will take the most appropriate measures," he added.
Medvedev, who currently serves as deputy chair of the Russian National Security Council, noted that Seoul had thus far refused to supply lethal aid to Kiev.
Asian ally to loan artillery shells to US – media
"I wonder what the residents of this nation would say when they see the newest example of Russian weapons in possession of their closest neighbors, our partners from the DPRK [Democratic People's Republic of Korea]?" Medvedev wrote on social media.
Yoon told Reuters that he plans to discuss with US President Joe Biden how the two nations can achieve "tangible outcomes" in deterring North Korea.
He added that Seoul is developing "ultra-high-performance, high-power weapons" to fend off perceived threats from its neighbor. Last week, Pyongyang reported testing its first solid-propellant intercontinental ballistic missile.
South Korea, which is a major arms producer, has refrained from sending lethal aid to Ukraine, citing its policy against supplying weapons to war zones. President Yoon's office said his remarks to Reuters did not signal a policy change by the government, according to the Yonhap news agency.
READ MORE: North Korea boasts about new type of weapon
South Korean media claimed last week that the country had considered "loaning" the US some 500,000 rounds for 155mm artillery guns. Ukraine is reportedly in desperate need of this type of munition for the conflict with Russia.
A government official described the arrangement to the Dong-A Ilbo newspaper as "indirect aid to Ukraine" which would supposedly show that Seoul was a responsible member of the international community "without provoking Russia."